• 1.4oz portions are just right for baby Growth spurt? Pop out more as needed • Extra thick, resilient silicone construction • Silicone lid with secure latch tabs for storage and stacking • Dishwasher, freezer, microwave, and oven safe • Made without the use of BPA, BPS, phthalates, latex, etc.
Get 10% off for purchase of 1 items
This kitchen essential is made from thick food grade silicone and comes with a transparent silicone lid for easy inventory. 7 individual prep pods make it easy to get your baby meal prep done for the whole week. Just fill, freeze, pop out portions and reheat as needed.

The must have silicone freezer tray is capable of a whole lot more than its name suggests. Of course it can be used to store perfectly portioned purées in the freezer, but you can also use it for dry snacks in the pantry, yogurt and fruit in the fridge, egg bites in the air fryer, and even as a pan to bake adorable mini muffins in the oven.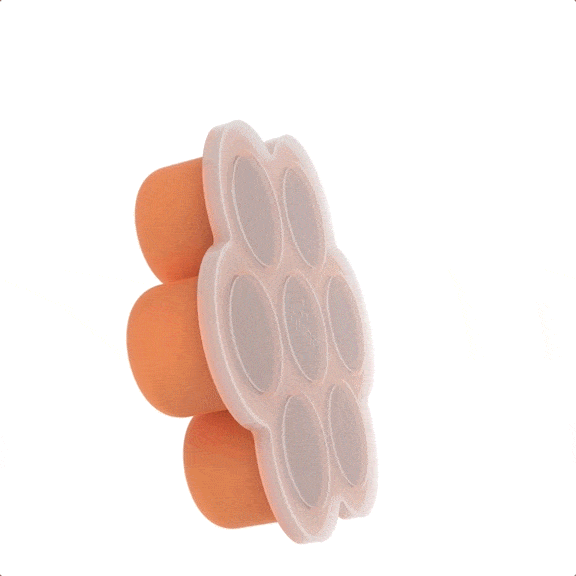 advanced
meal prep

Prep just the right amount, take easy inventory and pop out perfect portions using the silicone freezer tray designed just for your littles. Don't need it for the freezer? Thanks to its all silicone construction, Chiill can also be used in the oven, pressure cooker and even the air fryer so you can get creative with your bite sized baby foods.




thick
silicone

Made from extra thick food grade silicone, the Chiill freezer tray is designed to handle anything you can throw at it. Capable of withstanding both extreme heat and cold temperatures, each tray includes a transparent silicone lid with 6 locking tabs to keep food fresh and enable stacking to maximize valuable storage space.




seven
prep pods

Featuring 7 'prep pods', one for each day of the week, Chiill is designed for easy meal prep. Each pod holds precisely 1.4 ounces of puree, the perfect portion for new feeders. As your baby grows, simply pop out additional portions as needed. When your baby starts solids, Chiill can be repurposed as a baking tray.